M is for Moose! M is also for muffins at times, because moose love them, according to Laura Numeroff. I'm sure not going to argue with her.
We Read:
If You Give a Moose a Muffin by Laura Joffe Numeroff
Of all the animals in this series, I think the moose may be the worst. At least if you give a mouse a cookie, you eventually get your house cleaned. If you give a cat a cupcake, you'll have a wonderful albeit exhausting day of fun. But the moose just wrecks your house, eats your food, and expects you to make him more food. I'd have to double check on that pancake pig, but I think we can safely say this moose is a jerk.
Concept: Sequencing
Looking for a Moose by Phyllis Root
Children look for moose in various natural settings with no luck, but the reader can see moose legs hiding in the trees, moose noses hiding among rocks, and so on. In the end, the little hikers find a plethora of "long-legged, dinner-diving" moose. The rhythm of the text is infectious.
Concept: Inferring a whole from a part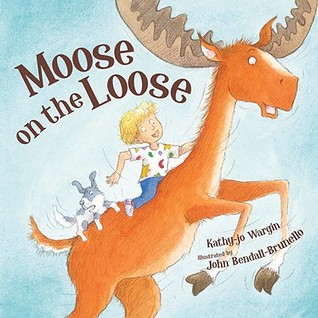 Moose on the Loose by Kathy-Jo Wargin
What would you do if a moose got into your house? Put socks on him? Let him into your bed?
Concept: Rhyming
Flannelboard
Five Big Muffins
Ten big muffins on the window sill.
Moose danced along and ate his fill. (encourage everyone to dance)
Now how many muffins are on the window sill?
_____ big muffins are on the window sill.
(Continue, changing "danced" to twirled, hopped, wiggled, waved, or any action you like.)
I made the muffins by rolling tan felt through the die cut machine, over the ice cream cone die. I cut the points off the cones and used them as the base and the ice cream scoop as the muffin top, then painted little "berries" on each one.
If you have a moose puppet, use its mouth to grab the muffins from the board.
Adapted from m/rcpl family zone
Action Songs
Moosie Pokey
You put your right hoof in (use foot)
You put your right hoof out.
You put your right hoof in,
And you shake it all about.
You do the Moose Pokey
And you turn yourself around.
That's what it's all about.
*You put your left hoof in…*You put your antlers in…*You put your whole self in
Source: Harris County Public Library
In the Forest ("The Wheels on the Bus")
The moose in the forest go trot trot trot, trot trot trot, trot trot trot,
The moose in the forest go trot trot trot,
All day long.
The wolves go aw-ooo…the bunnies go hop…the birds go tweet…etc
Adapted by me
Craft
Paper Plate Muffins
We made paper plate muffins similar to the ones on this post from In the Great Green Room.
How It Went
I got several compliments on this session, although I don't know if the adults were impressed with the storytime itself or that I didn't panic the second I saw the completely packed room. We have been busy for this fall series, and this particular day was one of the largest. I have had so many parents and grandparents tell me, "You are so talented!" or "You are so good at this!" in the last few weeks, and I think by "this," they mean crowd management more than anything.
This plan took a lot of poking around and research to put together, because while plenty of wonderful moose books exist, most of them are not for the toddler/preschool age level. I'm very happy with how it turned out and will use it again, but first, we need a moose puppet for our puppet collection.