When I polled the storytimers about future themes they'd like to see, one little boy yelled, "Cars!" In today's society, we're hyper-conscious about driving and the pollution caused by vehicles, or if we aren't, we should be. Without even touching the topic of global warming, I think we all at least know that vehicle exhaust pollutes the air we breathe and contributes to that disgusting brown miasma we see hanging over major cities. Yeah, I see that brown cloud, Dallas. And Houston. And Seattle! You're supposed to be full of greenies! Why did I see sludgy air hanging over you from the ferry deck last summer?
In other words, yes, I felt a ping of conscience while celebrating the automobile. On the other hand, the car is so much more to the American family than a smog machine, or even a mode of transportation. I just had a phone conversation with my mother a couple of weeks ago about what a shame it is that so many parents now let their kids watch television in the car, whether by portable DVD player, built-in TV, tablet, or phone. We agreed that some of our best memories and conversations happened on road trips, and Mom said she always felt that time in the car gave her a chance to talk to us without distractions like homework, television, or phone calls. (I didn't bring up that time when I was 16 and she almost got us T-boned because she was on her cellphone, because bygones.) The car is a bonding zone.
Cars also offer a great opportunity to talk about colors, shapes, and size. You can read the names of models and talk about what they mean–provided you have some clue; I mean, Impala is one thing but what's a Camry aside from a small sedan? You can even talk about whether cars are clean or dirty, old or new, though probably not with the owners in earshot. Of course, don't forget all the wonderful sounds! Engines roaring, purring, or putt-putting. Brakes screeching. Wipers squeaking.
So, we'll worry about the environment in some other storytime. It's not like 3-year-olds have much to do with emissions control anyway.
We read:
Speed by Nathan Clement
The text is more on par with K students than preschool, so we mainly did description/discussion here and pretended to wave race flags. I wanted the kids to learn a little about car racing for the next story.
Concepts: Colors and patterns.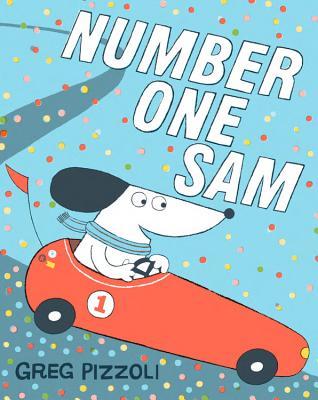 Number One Sam by Greg Pizzoli
Sam's Number One at everything: speed, turns, and most importantly, winning! One day, Sam loses a big race and his confidence, too. He worries incessantly about the next race, but when it finally comes around, he finds his mojo is back. Then 5 hipster chicks (as in baby chickens, not women) wander onto the track, and Sam decides to throw the race so he can get them to safety. However, everyone celebrates his decision more than they would have celebrated a win, because saving the lives of children is way more important than winning a race. (Side note: The chicks' parent appears to have taken part in the race. Why didn't s/he take steps to keep the kids safe? Somebody call the authorities on that fowl.)
Concepts: Friendship. Life priorities. Anxiety.
Night Light by Nicholas Blechman
Goes like this: You see a number of lights (one through ten, natch) on a die-cut black page, with some white printing about what kind of vehicle has the lights. Then you turn the page and see what it is: a taxi, a tanker truck, a helicopter, a train, and so on. You guess based on the hints and also the color/configuration of the lights. Well, mostly the hints, because preschoolers don't recognize the light pattern of an airport tanker truck. Neither do I. Strictly speaking, not everything in this book is a car, but there's a conversation you can have, right there!
Concepts: Counting. Vocabulary.
And the Cars Go… by William Bee
Honorable mention. We didn't have time to read it. Plenty of great car noises to make in this traffic jam, although some of the vocabulary will need explaining or dumbing down. If you don't live near a lot of kids who know what a Rolls Royce is or that it's famous for its quiet engine, you'll either have to tell them or just call it "the fancy car."
Concepts: Car sounds.
Flannelboard: Lots of Cars
Song and flannel template both came from Nancy Music. Click through for the rhyme and tune!
"Big cars! Little cars! Beep, beep, beep."
Action Rhymes
"Drive, Drive, Drive Your Car" (Tune: Row, Row, Row Your Boat)
Drive, drive, drive your car,
All around the town!
Merrily, merrily, merrily, merrily,
Up the hills and down.
Turn, turn, turn the key,
Make the engine roar.
Merrily, merrily, merrily, merrily,
Let's go to the store.
Press, press, press the pedal,
Give the engine gas.
Merrily, merrily, merrily, merrily,
Now we're going fast.
Turn, turn, turn the wheel,
That is how we steer.
Merrily, merrily, merrily, merrily,
Let's just park right here.
Adapted from King County Library System
"Windshield Wiper"
I'm a windshield wiper (bend arm at elbow and hold fingers up)
This is how I go (swing arm back and forth)
Back and forth, back and forth (continue motion)
In the rain and snow.
My modification: After we sang the song twice, I encouraged everyone to make annoying squeaky wiper sounds while we changed our wiper settings from high/fast to medium to low/slow to intermittent/every couple seconds. Fun!
Source: Storytime Katie
Craft: Letter C Cars
It's a paper plate C with a paper car shape glued on. The storytimers colored theirs. You might wonder why mine has holes. To put it briefly: Summer reading. Underground theme. Hobbit party. Dwarf beard craft. You get the picture.
Source: Tip Junkie
How It Went: To quote Goldie Hawn in Overboard, "Buh buh buh buh buh." For no apparent reason, I had twice my usual number of storytimers. One mom said, "It's the nice weather," which is also what everyone says when no one shows up on a nice day. Another mom said, "I guess word just got out." Whatever the reason, I was happy to have such a big group, but a little sad because a bigger group means a slower pace as your questions suddenly have twice as many answers, so we had to cut a book. But we made so many car noises anyway!
This week: F is for Senses…Five, that is.