For our last storytime before Christmas break, we shared stories about Cookie. C is for Cookie! And I backed that up with an actual cardboard letter; I'm not just stealing a line from Cookie Monster.
We read:
Mr. Cookie Baker by Monica Wellington
A simple picture book about how bakers make and sell cookies.
Concept: Factual book.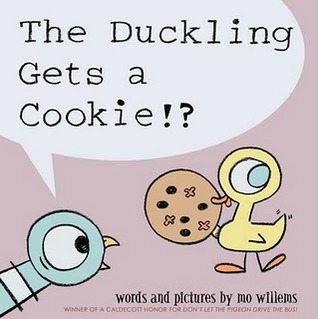 The Duckling Gets a Cookie!? by Mo Willems
The ducking gets a cookie (with nuts) and the Pigeon is predictably upset.
Concept: Print awareness (word bubbles!)
The Cow Loves Cookies by Karma Wilson
The farmer feeds his animals the appropriate items except the cow, who loves cookies. Cumulative rhyming text, a refrain, and plenty of farm animals to encourage noise-making.
Concepts: Rhyme and animal noises (phonemic awareness). Sequencing.
Cookie Count by Robert Sabuda
Mice sample a variety of tasty treats in this pop-up delight.
Concept: Counting
Flannelboard
Five Little Cookies
Five little cookies in the window today,
Along came (child's name) with money to pay.
(S)he picked the (color of sprinkles) cookie and took it away!
The cookies across the top of the board in this photo are the pieces for this set. The photo is of all three sets I made for the Food storytime kit.
Extensions
Who Took the Cookies from the Cookie Jar?
We played the classic game with its classic rhyme using a felt cookie from the flannel set. If you don't know it, you can hear the lyrics in this video. I decided my group was too young to handle the entire "Who, me? Yes, you" part on short notice, so I improvised that part a little and just said, "Not you? Then who?" when a child denied having the cookie.
This is the Way the Cookies Bake ("Here We Go Round the Mulberry Bush")
This is the way we sift the flour, sift the flour, sift the flour,
This is the way we sift the flour, all day long.
Stir the batter…melt the butter…shake the sugar…sprinkle the nuts…the cookies rise…we eat them up
Craft
Die Cut Gingerbread House
Always a hit: yarn for icing and sequins for "candy."
How It Went:
Everyone likes to talk about cookies, so this program went perfectly. Poll results reveal the leading favorite cookie is chocolate chip.