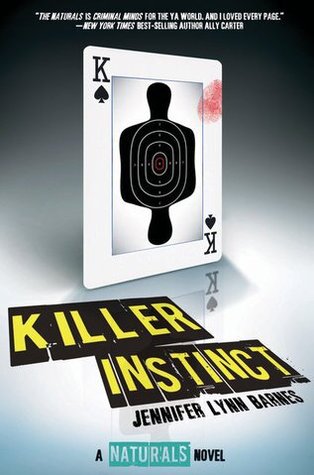 Disney-Hyperion, $17.99 hardbound, ISBN-10 1423168321, November 2014
Seventeen-year-old Cassie Hobbes has a gift for profiling people. Her talent has landed her a spot in an elite FBI program for teens with innate crime-solving abilities, and into some harrowing situations. After barely escaping a confrontation with an unbalanced killer obsessed with her mother's murder, Cassie hopes she and the rest of the team can stick to solving cold cases from a distance. But when victims of a brutal new serial killer start turning up, the Naturals are pulled into an active case that strikes too close to home: the killer is a perfect copycat of Dean's incarcerated father—a man he'd do anything to forget. Forced deeper into a murderer's psyche than ever before, will the Naturals be able to outsmart the enigmatic killer's brutal mind games before this copycat twists them into his web for good?
Book 2 of The Naturals, a CSI-type series about five teenagers with extraordinary natural gifts for criminal investigation, is here. Readers can join Cassie and Dean the profilers, Michael the emotion reader, Lia the human lie detector, and Sloane the statistician/savant as they track a new killer. This time, the murders seem connected to Dean's father, an incarcerated serial killer. To complicate matters, a new agent has taken Locke's place, and she wants the Naturals to take a step back from investigating for their own safety. If they don't toe the line, she might recommend the FBI disband the program altogether.
Barnes keeps the focus on chasing the killer, so while fans looking forward to more of the Cassie-Michael-Dean love triangle will get a small fix, don't expect the romance angle to overwhelm this story. Pulling Dean's father into the plot provides an organic in-road to keep developing Dean's character without taking away from the plot. Secondary female characters Lia and Sloane feel more sympathetic this time and add some humor. Hopefully the next book will focus more on these underutilized characters.
Teens who like forensic investigation shows and books will welcome the latest in this series.
Recommend to: Procedural mystery fans
To buy or not to buy: For public library YA collections.