P is for Pumpkins!
We read:
Piggies in the Pumpkin Patch by Mary Peterson
Cute piglets sneak out of their pumpkin patch home while their mother naps and get into a bit of trouble.
Concepts: Rhyming. Prepositions.
How Big Could Your Pumpkin Grow? by Wendell Minor
If Paul Bunyan gave you pumpkin seeds, how big could your pumpkin grow? This book imagines pumpkins as hot air balloons, a face on Mount Rushmore, and more.
Concept: Imagination.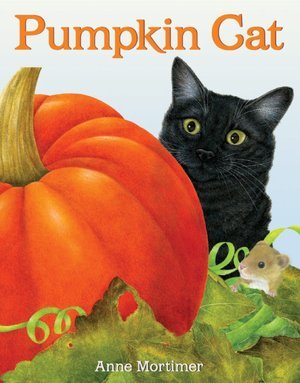 Pumpkin Cat by Anne Mortimer
Mouse shows Cat where pumpkins come from, seed to jack-o-lantern.
Concepts: How plants grow.
Pumpkin Time by Erzsi Deak
Cows march down the street in fancy hats, donkeys sail through the air, and the whole farm plays badminton, but Evy doesn't notice! She's too busy growing this giant pumpkin to make into a pie for the harvest feast.
Concepts: Where food comes from.
Action Rhymes
Pumpkin Pumpkin on the Ground
Pumpkin, pumpkin on the ground (touch the ground)
How'd you get so big and round? (make a circle)
Once you were a seed so small (pinch fingers together)
Now you are a great big ball! (make a big circle)
Pumpkin, pumpkin on the ground (touch the ground)
How'd you get so big and round? (make a circle)
Source: Storytime Katie
We did that one as call and echo to make it longer and more fun.
Ring Around the Pumpkin (Tune of "Ring Around the Rosies")

Ring around the pumpkin
Orange, big and round.
Pumpkin seeds, Pumpkin seeds
We all fall down!
Ring around the pumpkin,
Full of pulp,
Pumpkin pie, pumpkin pie
We all stand up!
Source: First verse: Harris County Public Library, second verse: me
Flannelboard
We used the Little Fly flannel set from the Thanksgiving pie storytime I did my first year here.
Craft
Inside a Pumpkin
We did the pumpkin seeds 'n' guts craft from last year.
How It Went
Great session! I do wish I had the Jan Thomas pumpkin book I used last year, but someone beat me to it this year. I would have subbed it for the Cat and Mouse book. Still, we had so much fun with the books and activities I did have that I definitely cannot complain.
Next week is Halloween–and someone who might possibly be me needs to get on the stick and finish (read: start) her costume–and our Monsters kit is coming out to play.