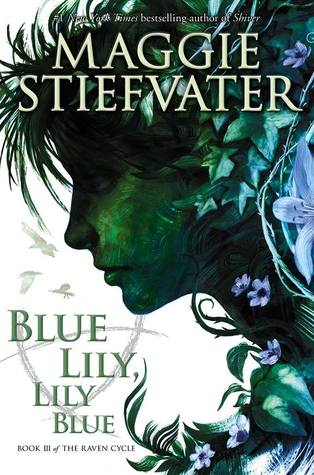 Scholastic Press, $18.99 hardcover, ISBN-10 0545424968 , October 2014
There is danger in dreaming. But there is even more danger in waking up. Blue Sargent has found things. For the first time in her life, she has friends she can trust, a group to which she can belong. The Raven Boys have taken her in as one of their own. Their problems have become hers, and her problems have become theirs. The trick with found things though, is how easily they can be lost.
Oh my gosh, finally Scholastic approved my Netgalley request and finally I got to read book 3 of The Raven Boys. By the way, if you're expecting the thrilling conclusion to the series, I must tell you that this is a quadrilogy. Quadralogy. Quadracep. Whatever. Blue Lily, Lily Blue is the penultimate volume, not the finale.
Much of this installment feels like the author having gratuitous Maggie-Stiefvater-style fun, which is not a bad thing for fans. However, sometimes every character including the villains gets a little more quippy-quirky than the reader might believe. While it's a solid story, book 3 also fails to recapture the sense of discoveries around every corner and the exhilaration of remaking the world that we saw in book 2 (The Dream Thieves). Still, it's highly enjoyable, easy to recommend, and sets up what's sure to be a humdinger of a final volume next year.
Some sort-of spoilers:
People and things which should not be woken are woken
People who were not sleeping are woken
We meet a character as absurdly tall as Blue is absurdly short
Noah shows up little but makes an impact when he's around
Professor Malory comes for a visit; surprise, he enjoys tea
Adam and his Cabeswater connection just keep getting weirder
Surprise character death alert!
Recommend to: No one who hasn't read the first 2, but the series is a great one to recommend to any fantasy fans/all-around good book seekers
To buy or not to buy: Buy. Of course.