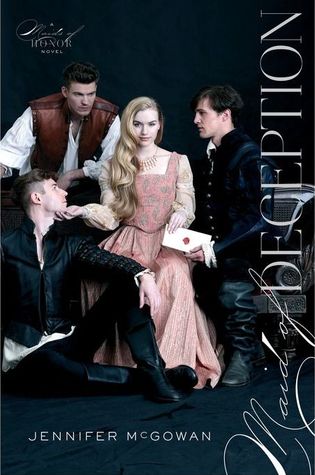 Simon & Schuster Books for Young Readers, $17.99 hardbound, ISBN-10 1442441410, August 2014
Beatrice Knowles is a Maid of Honor, one of Queen Elizabeth I's secret protectors. Known for her uncanny ability to manipulate men's hearts, Beatrice has proven herself to be a valuable asset in the Queen's court—or so she thinks. It has been three weeks since the Maids thwarted a plot to overthrow the Queen, and Beatrice is preparing to wed her betrothed, Lord Cavanaugh. However, her plans come to a crashing halt as rumors of a brewing Scottish rebellion spread among the court. Beatrice's new assignment is to infiltrate the visiting Scottish delegation using her subtle arts in persuasion. The mission seems simple enough, until the Queen pairs Beatrice with the worst of the lot—Alasdair MacLeod. Beatrice cannot help but think that the Queen is purposefully setting her up for failure. But Alasdair could be the key to unlocking the truth about the rebellion….and her own heart. Caught in a web of ever-more-twisting lies, Beatrice must rise up among the Maids of Honor and prove what she's known all along: In a court filled with deception and danger, love may be the deadliest weapon of all.
I'm trying to do better about choosing books based on their blurbs, not their cover art, especially since I read so many ARCs with art that might change before publication. I'm proud of myself for giving this story a chance despite the cover, which looks like Gossip Girl meets The Tudors on a low-budget sound stage and the two start talking about a revival of the musical Grease. To me, anyway.
Two books before I read this, I started a reading journal. No comment on whether I'm doing well keeping up with it. No comment on whether I used it to take an inventory of my closet after swearing it was only for thoughts about books. Here are some of those thoughts, jotted down while reading Maid of Deception on an airplane:
"Spies, cool! Oh, NO. Roguish Scottish hero! They've invaded YA!" (Probably a reference to the overabundance of them flouncing their kilts all over adult romance.)
"Wow, an unflattering portrayal of heavily mythologized Queen Elizabeth I!" (Said with admiration.)
"What is on my airplane TV? Is that a SNEEZE splatter?!" (Self-explanatory.)
"Nice grasp of political climate."
"Okay, hero is pretty swoon-making."
"Hilarious and fun. Teen girls juggling espionage, faithless suitors, and pickpocketing in the name of the Queen."
I noted "23%" with that last comment, as in, "My Kindle says I'm 23% done with the book, and I'm putting the journal down because I love this and just want to read."
McGowan knows how to mix scandal, intrigue, danger, romance, and a heavy dose of sarcastic heroine into a funny, surprisingly substantive good time. She hits several genre notes in the process: historical fiction, the popular (at the mo) espionage thriller, romance, and even a dash of the paranormal. While her story is plot-driven, main character Beatrice is well-drawn as a witty, socially astute cynic with a heart of gold, and it's her voice that draws the reader in and gives them impetus to care what happens to her. Readers who missed book one won't be lost if they start here instead. A heartfelt, breathless adventure in the spy game.
Recommend to: Romance fans, fans of spy stories
To buy or not to buy: A good selection for public library YA collections; prepare to commit to the series.
***This honest, uncompensated review refers to an ARC from Edelweiss.