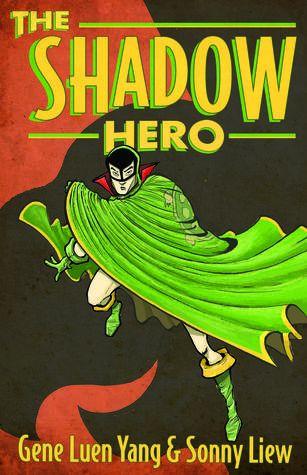 First Second, $17.99 trade, ISBN-10 1596436972, July 2014
In the comics boom of the 1940s, a legend was born: the Green Turtle. He solved crimes and fought injustice just like the other comics characters. But this mysterious masked crusader was hiding something more than your run-of-the-mill secret identity… The Green Turtle was the first Asian American super hero. The comic had a short run before lapsing into obscurity, but the acclaimed author of "American Born Chinese," Gene Luen Yang, has finally revived this character in "Shadow Hero," a new graphic novel that creates an origin story for the Green Turtle. With artwork by Sonny Liew, this gorgeous, funny comics adventure for teens is a new spin on the long, rich tradition of American comics lore.
I know I seem late to the game on this one, since it came out weeks ago, but my first review and I had this little technical problem with WordPress called "WordPress decides to eat the review." I got disgusted, then I got loaded down with end-of-summer-reading shenanigans, and then the book came out and I thought I would just skip the review because everyone is going to buy it anyway. But here I am talking about the book anyway, because I love it so much! Because…
Dream team! What is it about Gene Luen Yang's work that captivates us so easily? Is it his ability to nail self-identity struggles on head every time? Is it that he has style by the mile without getting slick on us? Is it that his stories have the feel of coming directly from the heart? Yes, it's probably all of that. This time, his writing is paired with art by Sonny Liew. If you don't recognize the name, you might recall a graphic novel from a few years ago called Wonderland (Disney Press 2008). While written by Tommy Kovac, the book's delightfully askew art came from Liew. He also worked on the Flight series and the Sense and Sensibility graphic novel, and he's incredibly talented.
Diversity! All "minorities" (they're gonna be the majority someday, folks) are underrepresented in publishing to a criminal extent, and Asian-Americans characters are a rarity. The Shadow Hero focuses on immigrant and first-gen Chinese Americans in a humanized and dignified manner. Well. Some of Hank's wardrobe choices are not terribly dignified, but it's not his fault.
Resurrection and reclamation! The Green Turtle is a Golden Age character created by a man named Chu Hing. While no one knows if Hing intended his character to be Asian-American, the legends around the theory seem strong. Yang resurrects this lost hero and gives him a solid identity, origin story, and hero arc.
Hank's mom! Although it does take on racism, growing up, standing up, and omnipotent turtle spirits, this book is hilarious, largely because of Hank's mother Hua. She didn't get the life she dreamed of when she came to America, so she is by golly going to make sure her son does better if it kills her, although it's more likely to kill him. Rescued by a superhero, Hua knows that she's found her son's path in life, even if he just wants to take over the family store and be exactly like his dad. From embarrassing outfits to dangerous attempts to imbue Hank with superpowers, she's there for all his origin story needs.
Heroism! Hank gets a very true-to-form hero origin. Tragedy happens. He's imbued with impressive but limited powers. He must find the inner fortitude to stand up for what's right, and in so doing, find himself.
You've seen it in your friends' Goodreads lists. You've heard about it on NPR. I'm hardly the only person screaming about this book, but I'll add my voice anyway. Don't just buy this one for your collection. Read it yourself.
Recommend to: People who love a good story
To buy or not to buy: I'm assuming you already did. Hopefully!