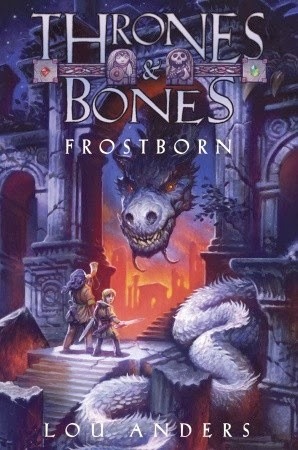 Crown Books for Young Readers, $16.99 hardbound, ISBN-10 0385387784, August 2014
Meet Karn. He is destined to take over the family farm in Norrøngard. His only problem? He'd rather be playing the board game Thrones and Bones. Enter Thianna. Half human, half frost giantess. She's too tall to blend in with other humans but too short to be taken seriously as a giant. When family intrigues force Karn and Thianna to flee into the wilderness, they have to keep their sense of humor and their wits about them. But survival can be challenging when you're being chased by a 1,500-year-old dragon, Helltoppr the undead warrior and his undead minions, an evil uncle, wyverns, and an assortment of trolls and giants.
Just take a moment to read over the grocery list of fantasy standbys chasing our heroes in that last line of the blurb. When a writer pack a fantasy novel with this many mythological elements, the resulting book can feel like a checklist instead of a story. Anders, however, knows how to create a believable backstory and personality for each species and individual, resulting in an exciting pseudo-Norse world in which our heroes may romp. Or, more frequently, flee for their lives. The friendship between strong, stubborn Thianna and somewhat nerdy Karn sparkles against the backdrop of Anders's excellent world-building, and despite the danger of their adventures, a consistent tone of humor makes this book as fun as it is thrilling. Proponents of strategy games will appreciate Karn's use of the reasoning skills he gained playing Thrones and Bones to ultimately save his bacon, and while she can be abrasive, Thianna is a bright, tough female character.
Recommend to: Middle grade fantasy fans, anyone needing a Norse mythology tie-in
To buy or not to buy: A great addition to public and upper elementary/middle school libraries