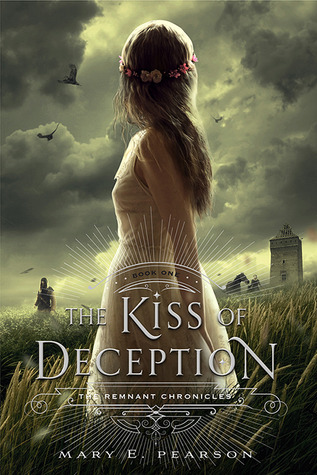 Henry Holt and Co (BYR), $17.99 hardbound, ISBN-10 0805099239, July 2014
In a society steeped in tradition, Princess Lia's life follows a preordained course. As First Daughter, she is expected to have the revered gift of sight—but she doesn't—and she knows her parents are perpetrating a sham when they arrange her marriage to secure an alliance with a neighboring kingdom—to a prince she has never met. On the morning of her wedding, Lia flees to a distant village. She settles into a new life, hopeful when two mysterious and handsome strangers arrive—and unaware that one is the jilted prince and the other an assassin sent to kill her. Deception abounds, and Lia finds herself on the brink of unlocking perilous secrets—even as she finds herself falling in love.
Anyone who knows me knows I don't care for love triangles. In fact, I loathe them. Every time I read a book that has a love triangle in the plot, I try to form a blind spot to it. I think my lack of patience with them has largely to do with the inevitable resolution: either the hero/heroine picks the wrong guy/girl, or it's so blatantly obvious who he/she is going to choose that I feel like reading about the love triangle is a huge waste of time. Example: Bella/Edward/Jacob in Twilight. Aw, you rooted for Jacob? That's so sweet! But since every square inch of Bella's tiny little brain was obsessed with Edward, you had to know Jacob wouldn't get the girl. Another example: Katniss/Gale/Peeta in The Hunger Games. Gale gets very little page time compared to Peeta. You know Katniss isn't going to pick Mr. No Page Time.
Surprise! The love triangle in this story actually works, largely through the element of mystery. Most of the book is told by Lia, but some chapters are narrated by her suitors, Kaden and Rafe. One of them is a prince Lia ran from marrying. The other is an assassin sent to kill her. Which one is which? Good question. Their chapters are either headed "Rafe" and "Kaden" or "The Prince" and "The Assassin." No hints show up to indicate which name belongs to which guy, so you spend most of the book trying to figure out if Lia is hooking up with her ex-fiancee or a hired killer. (My guess was wrong, by the way.)
Pearson devotes a good deal of space to the romance, but she also develops a strong heroine who grows into her power and place. Slightly reminiscent of Girl of Fire and Thorns, this first book in a trilogy is sure to hook many fans.
Recommend to: Fantasy and romance fans
To buy or not to buy: Buy. Great story, gutsy heroine.