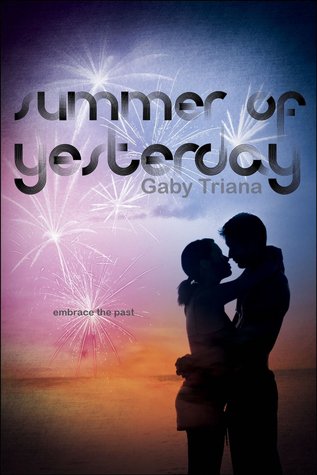 Simon Pulse, $9.99 trade, ISBN-10 1481401300, June 2014
Back to the Future meets Fast Times at Ridgemont High when Haley's summer vacation takes a turn for the retro in this totally rad romantic fantasy. Summer officially sucks. Thanks to a stupid seizure she had a few months earlier, Haley's stuck going on vacation with her dad and his new family to Disney's Fort Wilderness instead of enjoying the last session of summer camp back home with her friends. Fort Wilderness holds lots of childhood memories for her father, but surely nothing for Haley. But then a new seizure triggers something she's never before experienced—time travel—and she ends up in River Country, the campground's long-abandoned water park, during its heyday. The year? 1982. And there—with its amusing fashion, "oldies" music, and primitive technology—she runs into familiar faces: teenage Dad and Mom before they'd even met. Somehow, Haley must find her way back to the twenty-first century before her present-day parents anguish over her disappearance, a difficult feat now that she's met Jason, one of the park's summer residents and employees, who takes the strangely dressed stowaway under his wing. Seizures aside, Haley's used to controlling her life, and she has no idea how to deal with this dilemma. How can she be falling for a boy whose future she can't share?
Hooray, the YA time travel setting is a year in which I existed but have no memory of because I was less than a year old. I'm still young, yes? Also, I can definitively claim ZERO blame for the horrible fashions. Win!
Anyway, this romance is lackluster. The setup: Haley is mad because instead of hanging with her friends, she has to go on a family vacation. Oh, trauma. Then she time-travels back to a water park in the 80s and meets her parents as teenagers, but instead of worrying about them or about the fact that she has mysteriously traveled back in time, she crushes on the first lifeguard she meets, falls in love, and spends a lot of time worrying about getting a charge back on her iPhone 5 because through an enormously scientific process of just guessing, she decides the only way to travel home is to have her charged phone with her. Time travel? There's an app for that.
The plot mainly consists of sneaking around the swamp at theme park campgrounds trying not to get caught by security. References to the 80s are limited to a couple of movie and video game name drops (Tron!), a few words of slang, and a mention that the men are wearing shorts that are too short and the women are wearing shorts that are too long. (This situation continued for years, by the way. I was there. I witnessed it. Don't even get me started on the shoulder pads. Adults of the 80s, what do you have to say for yourselves?!) The hero's personality is incredibly bland, but he's hot, so Haley loves him anyway and tries to talk him out of his plan to enlist in the Army not that there's anything wrong with that because he's too smart not that smart people don't go into the Army but Jason shouldn't because he's too smart. Right. Then of course, there's the concern of how this summer fling will work out if Haley returns to the future! Spoiler: It just doesn't, and she never sees him again. Oh. Kay. Back to the Future it's certainly not.
Recommend to: Someone who's really interested in an Apple product placement overload.
To buy or not to buy: Pass. Time travel is starting to become a thing in YA. There will be others, hopefully better.