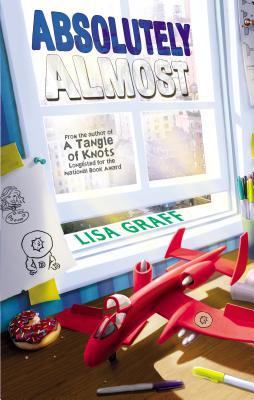 Pub Stub: Philomel, ISBN-10 0399164057, June 2014
Book Blurb: "From the author of the National Book Award nominee A TANGLE OF KNOTS comes an inspiring novel about figuring out who you are and doing what you love. Albie has never been the smartest kid in his class. He has never been the tallest. Or the best at gym. Or the greatest artist. Or the most musical. In fact, Albie has a long list of the things he's not very good at. But then Albie gets a new babysitter, Calista, who helps him figure out all of the things he is good at and how he can take pride in himself. A perfect companion to Lisa Graff's National Book Award-nominated A Tangle of Knots, this novel explores a similar theme in a realistic contemporary world where kids will easily be able to relate their own struggles to Albie's. Great for fans of Rebecca Stead's Liar and Spy, RJ Palacio's Wonder and Cynthia Lord's Rules."
Author Tidbits: Graff's previous book, A Tangle of Knots (Philomel 2013), was longlisted for the National Book Award and hit several Best of lists, including Amazon.com's Best Books 2013.
Newbery or Not: Graff has a fighting chance at breaking into the list this year. Albie's story touches on topics including bullying, parents with mixed up priorities, the perils of popularity, and being one of those kids who hears "everyone is good at something" and thinks, "Uh, really? Because I'm not." Poor Albie is the son of two overachievers, and although he studies hard, he remains a parent-disappointing solid-C student. I'm afraid many kids will relate to his feeling of confusion and failure when his dad goes on a rant at him for failing a spelling test, ticked off because spelling isn't hard, darn it! Except for Albie, it is. To me, the most painful moment, worse than the bullying, is when Albie's mother finds out he does not have dyslexia and is actually disappointed. Dyslexia is understandable to her. Having a son who fails tests even when trying his hardest is not. Although adult readers will frequently want to smack Albie's parents and a couple of his classmates, Graff's characterizations are honest. Albie's life is representative of the lives of many children who are just average at school and extracurriculars but are nonetheless really nice, cool kids doing their best. It's an issue drama where the issue is everyday life: parental pressure, snobs at school, and the struggle to be better than your best and the stress that struggle brings. Between the beautiful simplicity of it and Graff's writing, the Newbery Committee will be hard-pressed to ignore this baby.
Recommend to: Kids who like slice-of-life stories. Adults who need to go easier on their kids.
To Buy or Not to Buy: Buy.