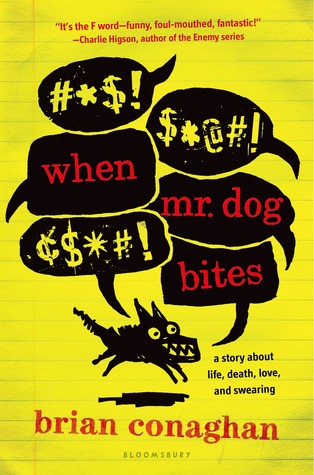 Bloomsbury USA Children's, $17.99 hardcover, ISBN-10 1619633469, June 2014
Dylan Mint has Tourette's. For Dylan, life is a constant battle to keep the bad stuff in – the swearing, the tics, the howling dog that escapes whenever he gets stressed. And, as a sixteen-year-old virgin and pupil at Drumhill Special School, getting stressed is something of an occupational hazard. But then a routine visit to the hospital changes everything. Overhearing a hushed conversation between the doctor and his mother, Dylan discovers that he's going to die next March. So he grants himself three parting wishes: three 'Cool Things To Do Before I Cack It'. It isn't a long list, but it is ambitious, and he doesn't have much time. But as Dylan sets out to make his wishes come true, he discovers that nothing – and no-one – is quite as he had previously supposed.
When an author takes on a disability as book fodder, a lot of readers instinctively go into the story with an eye on how the disability is treated. Is it realistic? Does the author stereotype the afflicted character? Does the author turn the afflicted character into a martyr? Conaghan handles the explanations and symptoms of Tourette's gracefully. However, some other elements in the story might put off some readers.
Dylan overhears a conversation in which he thinks his mom and doctor are discussing his imminent death. Without asking his mom for clarification or mentioning the issue to her at all, he starts mourning and planning for his untimely demise. I know teenagers are famously uncommunicative, but it's hard to believe a teen would overhear his parent talking about his future without him and just keep it all to himself, whether it's death or summer camp. Anyway, he sets himself the fairly believable goals of nailing the hottest girl at Drumhill Special School and finding a new BFF for his BFF Amir, a Pakistani boy who faces constant bullying at their school.
Readers should expect a good deal of profanity since the hero has Tourette's but may be somewhat surprised by the constant racial slurs and the (possibly realistic) amount of time Dylan spends thinking about sex, not to mention his identification of girls as sex objects and not as people. Although he's sixteen, much of Dylan's thoughts and speech seem to belong to someone much younger, and he's occasionally naive in ways that aren't particularly believable. Occasionally I wondered if he had some sort of slight mental disability in addition to the Tourette's. The plot is very predictable, almost like hitting points in a checklist.
While the topic is important to diversity in literature, the story and writing only make for an average read.
Recommend to: Fans of issue dramas
To buy or not to buy: Probably buy. Important topic.
**This honest review refers to an egalley received from the publisher via Netgalley.**