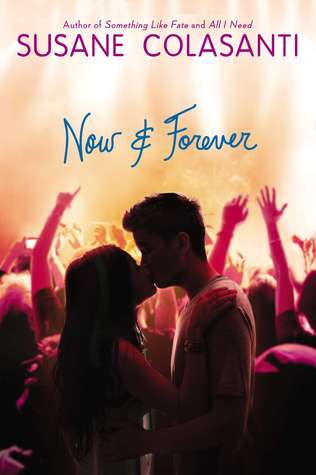 Viking Juvenile, $17.99 hardbound, ISBN-10 0670014249, May 2014
What if your boyfriend was the world's biggest rockstar? Sterling is crazy in love with Ethan. Not only is he the sweetest boy she's ever met, but he's an incredibly talented guitarist, singer, and songwriter. And since forever, he's believed he has what it takes to be a star. When Ethan becomes an overnight sensation, he's thrown head-first into the glam world of celebrity-and so is Sterling. Before she knows it, she's attending red-carpet premieres, getting free designer clothes, and flying around the country to attend Ethan's monumental sold-out concerts. It's a dream come true…but whose dream is Sterling living? And what do you do when "forever" comes to an end?
Dating a hot celebrity…what teen girl wouldn't love that? But when Sterling finds herself living the dream, it turns out life in the spotlight kind of sucks.
Sterling has always believed in Ethan's talent, and now that his ship has come in, he wants her on board. But as his social media followers skyrocket, Sterling sees less and less of Ethan, and when they do get together, adoring fans, agent phone calls, and band member drama causes strife between them. Then the online insults from his fans set in: Why is he with some regular girl like Sterling? Did everybody hear that Sterling hates his fans? Why is Sterling such a hateful bitch? Sterling is stung, and when it comes down to defending her and offending his fans or keeping his mouth shut, Ethan buttons up. What else will he do in the service of his career and his ego?
Sterling is likable enough, although her desire to become a "book publisher" because she thinks that the frequency of typos in "out of order" and "use other door" type signs means our language is going to pieces will induce hysterical laughter. By the end of the story, though, she's started to go in a more organic and realistic direction career-wise, thankfully. If she sticks by Ethan a little too blindly and a little too long, well, what girl wouldn't love to be with her ultra-rich, ultra-talented, ultra-famous first love and enjoy the sports cars, fancy clothes, and luxury hotels? Plus, as her name suggests, Sterling is as loyal and true as a girl can be.
Romance junkies may be a little put out that the story doesn't end with a for-sure HEA, but Colasanti leaves her heroine in a stronger, more self-assured emotional place with happy possibilities at a future connection. Sweet and touching, although I kept picturing Ethan as the Biebs and wanting to shout, "Run, Sterling!"
Recommend to: Romance fans, celeb followers
To buy or not to buy: Colasanti's own following makes this a first purchase